This weekend I drove in round 4 of DMCC in Montmagny again, same track as round 1. They decided to change the layout, and it made the course more challenging and interesting. But tandems weren't as good as usual because of people making mistakes and the track being so long. I got to the track Saturday morning. Practice was supposed to start at 3pm, but there was a ridiculous rain storm right at that time that delayed things. It was raining horizontally and everyone/everything got soaked even though we were under tents. The rain stopped after about an hour, and the sun came out. People started practicing, but I waited another hour for the track to completely dry out.
So I got out on track for the first time at around 5pm and did a few runs to feel it out. I tried to drive as much as possible to get comfortable with the new layout. The difficult thing about this track was finding the right speed/line to get on the highest lane in both banked turns. It's pretty easy to fly off the track here and destroy your car. One bank has no wall and some boulders to hit if you fly off far enough. The other side has a random mix of concrete/steel guard rails to stop you if you go off. So I slowly increased my speed and experimented with different lines to know where I'd need to be to get high on the bank for qualifying. I had changed to softer rear springs and more toe in for this event, so I was getting awesome grip through the turns. I could floor it all the way through the banks, which felt awesome and reminded me of how the car used to drive with the LS1 last year. I kept the tire pressues pretty high to make the car easier to drive for qualifying.
We qualified at around 8pm. I wanted to do a safe run for my first pass, but I did it too safe, and it was a pretty weak run. With the amount of grip I had, I needed to be more aggressive to get the car on the high line. I went 100% on the second run and entered high in the first turn. I was 99.8% sure I was flying off the track, but I stayed on. My transition on the straight was perfect, and I got the car right on the high line in the second bank. I left it in fourth gear even through the last slow section so I could get some smoke going. It felt pretty decent but I didn't do anything amazing. My crew guy, Kevin, said it was top 5, the crowd reaction was great, and I was pouring smoke at the end. The top 3 had nearly identical scores, but I qualified first! Like last round, only 14 drivers put up scores in qualifying, so I automatically went to the top 8, which was good because I was lacking tires.
In top 8, I went against Carl Nadeau in a LS-powered BMW thing. Carl's been struggling this year, but he was looking the best he had all year at this event. I led first and did a pretty solid run. He dropped low in the second bank to catch me, so I thought I'd have the advantage since I had a nice high line. I underestimated his speed a bit following him and gave him too much of a gap. When he e-braked on entry, it threw up a shower of sparks for some reason, and I kind of hesitated getting into the first turn. He had broken an axle/rear suspension in his top 16 battle, so I immediately thought something broke again. He also went pretty low on the bank, which was not the proper line, so I had to turn the car down to follow him after initially throwing the car high. Because of all that crap, there was a decent gap between us, and we ended up getting a one-more-time.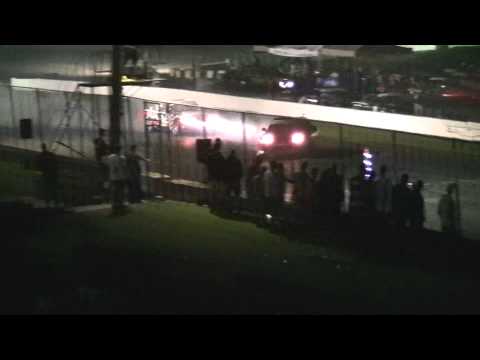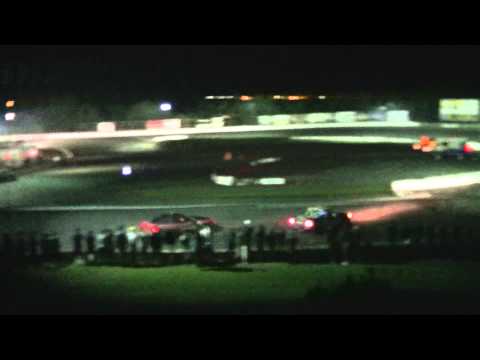 He switched to brand new BFGs, but I had to save tires, so just dropped air pressure. The track seemed to lose a lot of grip because I couldn't floor it at this point like I could earlier in the day, but I still had adequate grip. I did a real solid lead run, and he dropped low on the bank again. On my follow run, I really wanted to end it, so I was determined to follow him close. I came off the first bank right behind but his slowness at that point caught me off, and I had a correction to avoid hitting the clipping point on the straight. I was pissed and stupidly charged in at full speed on the exit of the second bank. I ended up locking the brakes to keep from hitting him and straightened. I was almost sure he had the win at this point. But we got a OMT I guess since his line was not what the judges were looking for or maybe they felt he was slowing down excessively.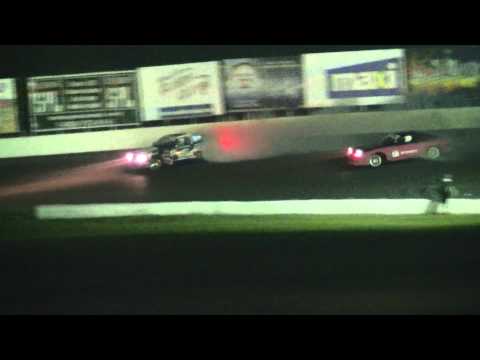 He put on new tires again, and I was still on the same set of tires. I was seriously pissed at myself at this point for driving sloppy and having to do another OMT on these tires. Time to drive angry. Again, my lead run was good. On the follow run, I came off the first bank pretty close to him and just kept it floored even though he was going slow through there. I was probably a few inches away from his bumper on that transition. He went really low on the bank, and I had to change my line to follow him. He got a bit of a gap. Then, for the last clipping point, I could see from where he transitioned that there was no way he was going to go around the cone. I wasn't sure if I should follow him or try to take the right line around the clip. He ended up just plowing through the clip cone, and I slowed down to go around it, so he got some more gap. Anyway, I ended up getting the win. My lead runs were all good, but I had trouble following him because his driving was inconsistent and line was off.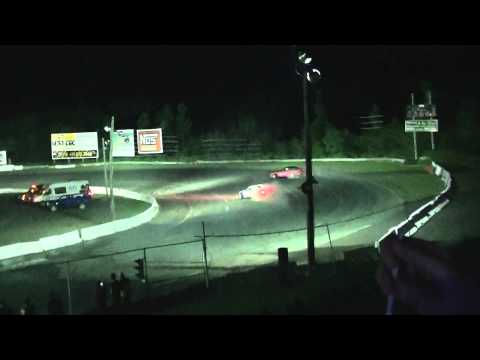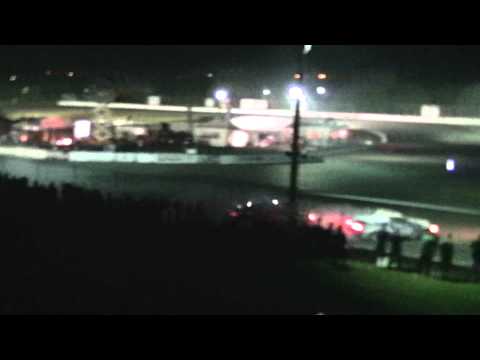 In top 4, I'd be going against Tanner. I've been telling him all year to come up to Canada, so it was good to see him doing well and to go against a Club Loose guy. We high-5′ed each other and said "let's do this" simultaneously. Haha. I only had two sets of (very) used tires at this point and some 255-wide Nitto NT05s, which I had never run before. We decided to go with the NT05s, left the pressure a bit on the high side because I expected them to be super grippy. I did a donut as I went out on track to warm up the tires, and the car spun around super easily, so I was kind of worried we made a mistake with putting these tires on at the pressure we had them. My worries were confirmed because I was ice skating leading against Tanner. I came off the first bank slower than he expected, and he got all screwed up on the transition, so I had the advantage. The tires were seriously done at this point after just one run. He got a huge lead on me on the straight on my follow run because I spun the tires literally in all four gears. Somehow, I managed to catch him by the second bank and finish somewhere close to him. I ended up getting the win. So those Nittos were a bad idea. We should have tried them in practice and experimented with tire pressure, but we didn't have time. It was at least nice to drive on tires that smoke a bit!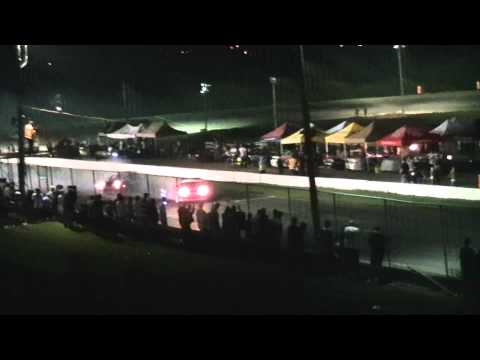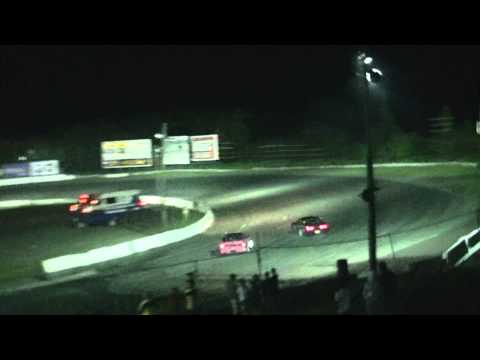 So now I was against Briggs in the finals. This is when I needed the most grip, and all we had were some terrible NT05s with 25% tread left and some Federals with about the same tread. I told Kevin to drop the Nitto pressures really low. Then, after he was done, I decided to change to the Federals instead… haha. Having a crew guy is awesome. Thanks Kevin! I led Briggs first and surprisingly got a big gap on him. His car had a lot of grip, and they loosened it up earlier in the competition to go against the slower guys. They just left it like that for the finals. On my follow run, I had to make sure there was no OMT because we seriously had no more tires. I jumped the start and entered right on him. I came off the bank too low and ended up making the transition on the straightaway in the grass. Dave got a gap on me because grass has less traction than asphalt. (Also, sorry to all the people in the pits that I showered with crap!) I charged into the second bank really fast and closed the gap. The rest of the follow run was decent, and I was within a car length of him. I got the win! Then we sprayed some NOS champagne and had poutine at 4am. It was good!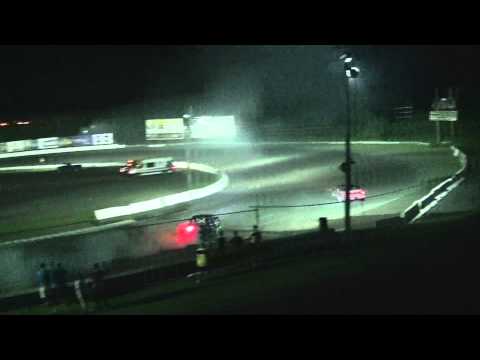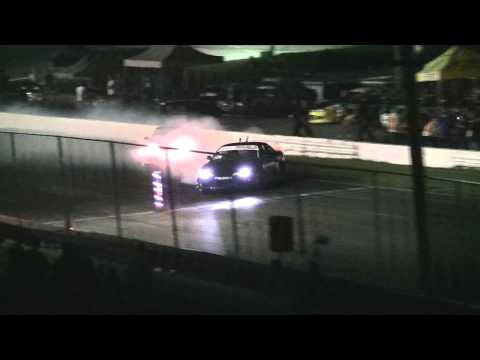 With the bad tire decisions and some sloppy driving, I was lucky to win. But after looking at the videos of everyone else's runs, I feel like overall I was driving as good or better than anyone and made the fewest mistakes. All my lead runs were flawless too. I can't thank Kevin enough this weekend. I literally didn't have to do anything except drive and sit at driver's meetings. It was awesome!