After Round 5 of DMCC at Mosport, there wasn't much going on for the next couple of weekends, so I cleaned up the car, changed all the fluids, and made sure everything was good for the final few events of the season. I also took out the engine so I could check on the clutch and fix the bent engine/trans mounts to put the engine in the right place again. I was looking forward to driving again and hopefully getting a good result after a weak showing at round 5. The upcoming event was a combination of DMCC Round 6 and the XDC prize round at St. Eustache, which meant a much bigger purse and some more American drivers competing. DMCC came up with a different track layout compared to what they normally use. Check out the videos to see the layout.
I drove up on Saturday to Kevin's house near the track. Cedric from Widened clothing/graphics wanted to vinyl wrap the car for the last two DMCC rounds, so I said… go for it. I had some burgers while Cedric applied the vinyl. He did an awesome job on the design and application. He's a true professional! We got to the track early on Saturday, had a way-too-long driver meeting, and then got out for practice in the wet. This track is always sketchy in the wet because the front straightaway on the oval is also used as a drag strip and gets super slick when it rains. With a lot of spinouts, some crashes, 40 Pro/Pro-Am drivers, and the long track configuration, practice went really slowly. By the end of the first session, I had 3 practice runs in the wet, which were basically waste because I didn't want to crash, and 2 practice runs in the dry. In the dry, I was getting too much speed for third gear, but I was bogging and having to clutch kick hard to get in the powerband in fourth gear coming out of the infield onto the front straight. I decided to stop struggling with clutch kicking or trying to upshift/downshift just for that one corner, and I doubled the tire pressure putting it up to 70psi so I could stay in fourth gear. I got 3 runs in the second practice session. I was looking much better but still struggling getting up to the outside clipping point in the last turn.
So after a total of five dry practice runs, it was time for qualifying. On my first run, I came through the first turn way too hot, and there was no way I was staying on track through the second turn. I hit full lock and was in the process of spinning out when I dirt dropped with my left rear wheel, which hooked into the dirt and jerked the car in the other direction, so I didn't spin. But I picked up a couple pounds of dirt/rock in the spokes of my wheel, and it started vibrating the whole car like crazy. I wasn't sure if I had broken/bent the wheel at that point, but I kept drifting. I stayed away from the walls for the rest of the run in case the wheel exploded and just tried to finish the course so I can get a score. Thankfully, I didn't get a zero, but it was one of the lowest scores.
OK, no problem. I still had a second run to get a decent score, and at least I knew I was in the show with the first run. We changed to a different set of wheels and made sure nothing was broken in the rear suspension. We qualify in reverse championship order in DMCC like FD, so Briggs qualifies before me, and I am the last to qualify since I'm leading the points. Just as Briggs lined up to go on his second run, it started pouring rain like crazy. Qualifying was cancelled for the day, and we were told that Briggs and I will qualify the next morning. Check out this sweet rain storm GoPro footage from Dave's car.
I got to the track Monday morning, and the track was wet. We were not allowed any practice runs and had to qualify in the wet on our first run out. There was a long line of cones back by the staging/burnout area, so I tried to get used to the wet by drifting the longest continuous slalom ever. That was fun, and I think I set some kind of a record. So I went back to the start line after warming up just as Briggs was launching for his qualifying run. He initiated, slid off the track, and crashed into a light pole in the infield. So now I knew to lower my entry speed a bit! I went for my run, got through the infield pretty well, tranitioned on the front straightaway, the car rotated way faster than I expected, went to full lock and was basically facing the wall head on, got it transitioned the other way somehow, and I'm thinking, "Holy crap! This is going to be a good run!" Then I spin in the last turn and get a zero. You'd think I would be disappointed, but I was laughing in the car because of how ridiculous the angle was on the straight and how close I was to eating the wall. That was probably the first time I had a smile on my face all weekend!
So my first qualifying run would have to count, which put me in 19th place out of 20 people that got scores! DMCC/XDC originally decided to do top 32 format for this round, but only 20 people managed to get scores out of about 30 entrants, so the highest 12 qualifiers would automatically advance to the top 16 round. We had another way-too-long driver meeting, and then we got a short practice in the wet where I managed to get 3 runs. I would be going against Cody Loughhead in top 32. I got one run behind him in practice, but he spun out, so I didn't learn much from that, and it was in the wet.
By the time we got around to the actual competition, the track had completely dried out. I had no idea how Cody was going to drive in the dry, so I decided to give him a car length on the entry and try to close in from there. We initiated, he slowed down a bit, then sped up. I tried to get on the throttle hard to catch up to him, but I gave it too much throttle over the big bump right after the first clipping point, and I spun out! At this point, I didn't give a crap and was thinking I would be packing up and going home shortly. I didn't realize it at the time, but Cody drove straight the majority of the run, and there was no advantage for either driver. To his credit, I believe his clutch was slipping. I put down a solid lead run with him straightening behind me, and I got the win.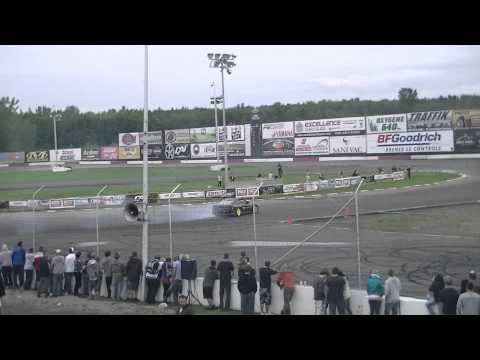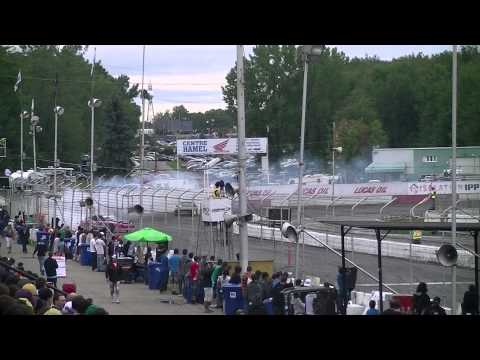 In top 16, I was paired with Tanner. I know I can go 100% with him, so I was relaxed going into the battle. I followed first and entered right behind him. He straightened after the first clip and got wobbly. I gave him some room in case he spun out, but he got back in drift. We came out of the infield with him pulling a gap on me, but he straightened again doing the manji on the front straight, so now I just tried to finish the run clean, and I should have had the advantage. He followed me pretty close on the next run but went low on both banks, which the judges specifically did not want. I won again.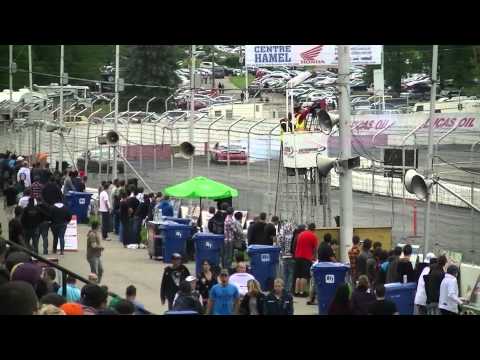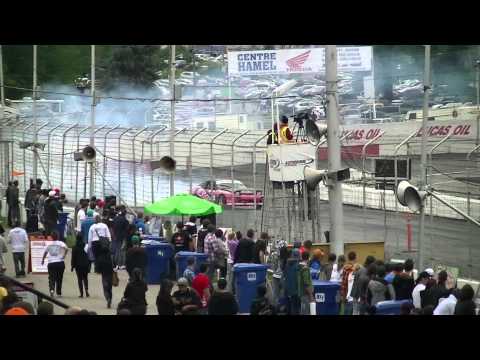 The next battle was with Nick Bro'Alessio in the top 8. I was told that he was driving well, but his line was inconsistent, and he was sometimes going low on the banks. I gave him some room on the entry and closed up through the infield. His angle was shallow coming out of the infield, and he straightened doing the manji on the front straight similar to what Tanner did, so I just finished the run clean and didn't try to go crazy getting in his door. I knew he'd be gunning for it on the chase run to try to get a OMT, so I tried to ignore him, and just do a mistake-free run. I entered a bit early though and killed my speed too much, which screwed up Nick behind me. The rest of the run was fine, but the judges saw the slower entry and gave Nick the advantage on that run, so we went OMT. I did two clean runs. He had shallow angle coming onto the front straight and a quick straighten there on both runs, so I got the win.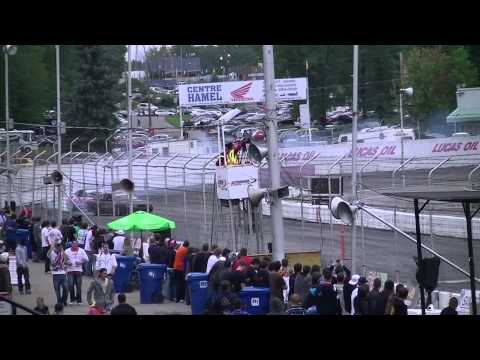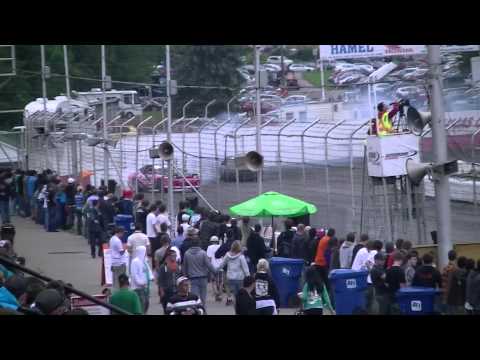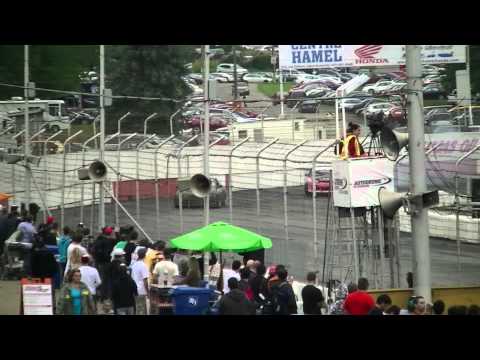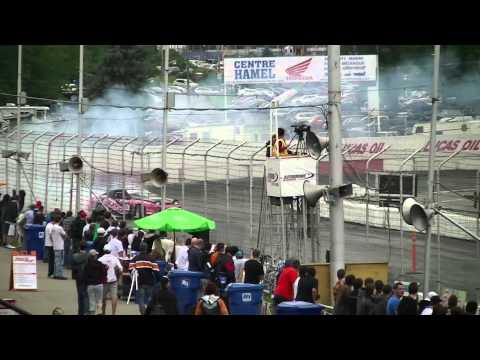 I did not think I would be in the top 4 when this day started! The next battle was against Marc-Andre Claude, one of the Pro-Am guys that stepped up to Pro for this event. He was doing a great job. I followed him decently well but nothing crazy. He straightened out behind me on my lead run, and I got the win.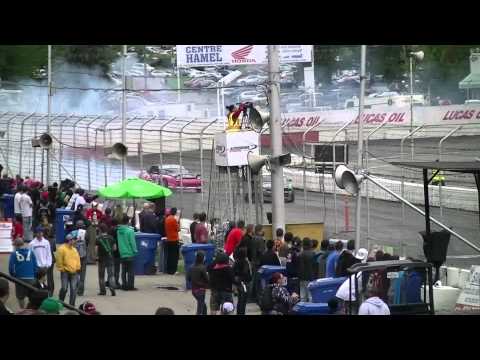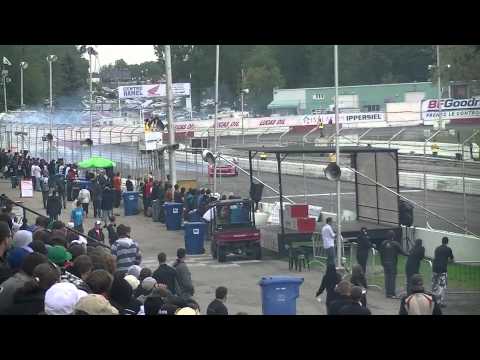 So now I was in the finals with Marc Landreville! Yeeha! Kevin told me to go 100% since Marc knows this track like the back of his hand and is not likely to make a mistake. He also qualified 1st and breezed through into the finals. I had nothing to lose, except the $5,500 difference between 1st and 2nd payout! We entered with a bit of gap, and I closed in through the infield and stayed with him the rest of the way. It was easy to follow him because he's so smooth on this track. It felt like slow motion, and I didn't have any "oh shit!" moments like I usually do when I try to chase people close… haha. I knew with 70psi or whatever we had in the rear tires, my car wasn't fast enough to pull a gap on him, so I wanted to do a clean lead run, and we would see if we'd go OMT or if he would make a mistake and give me the win. On my lead run, Marc got bogged down coming onto the front straight, and I pulled a small gap. I heard him right behind me most of the time though, so I thought we would go OMT, but the DMCC official giving the decisions in front of the stands told us to get out of the cars because the judges chose a winner. Then, they announced me as the winner!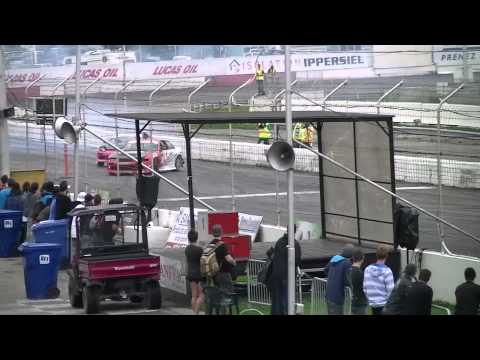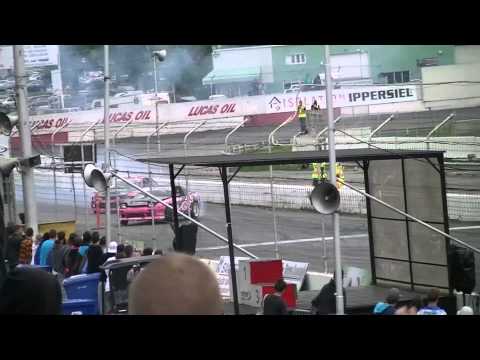 I couldn't believe I just won it after such a crappy start to the weekend. A lot of luck and some decent driving gets it done again! Haha. So there's one more round to go in the season, and I have a pretty good lead on Briggs in the championship since he lost to Landreville in top 8 this round. Hopefully I can finish strong at ICAR in a few weeks.
Big thanks to Kevin for helping out all weekend, JF for spotting and filming, Widened for all the vinyl work and merchandise, and Briggs' crew for being awesome and helping out with our panicked tire change!